July in Review!
Fighting Shadows by Aly Martinez
My rating: 4 of 5 stars
So I really loved this book..Page boys are one of a kind..I first fell in love with Till…but Flint he has a total Alpha complex which is completely HOT.
I love how he saved Eliza..I was really sad by the out come of that decision. I felt bad that his world turned upside down, and that he pulled away from everyone.
But omg the drama with his mom..what a LOSER.. Can't believe she took Q..but thank goodness for Ash..she was this bright light in that crazy drama. At first I didn't know what to thank of her..but she definitely grew on me..he and Flint were HOT.. Great book great story great read❤️
Fighting Shadows (On The Ropes Book 2)
by Aly Martinez
Link: http://amzn.com/B00ZGSIJ5O
My rating: 5 of 5 stars
This book was simply amazing. I really do not think my review is going to do this fabulous book justice.
The story was about a girl Ryan, who goes off to college to find herself. She has scars left by her absent father that she is trying to heal. She is soul searching, she is answering the question almost everyone ask themselves. "Who am I?" Her Journey is at times very painful, very real, and my heart broke for her over and over again.
I don't want to spoil this book for you. But I spent most of my time trying to decide which way I wanted the story to go for Ryan, but even though her journey was lined with tears, it was also beautiful to watch. Ryan really had a heart of gold, even if it took her a round about place to get there.
I love so many of the characters in this book, I loved how they were not just perfect on paper, but the characters held flaws that made them each unique and beautiful at the same time.
OMG…If I go anymore into this story I will spoil the beautiful journey you will go on in this book. You must read it. This book is that good. #TopFav.. PS..I am so glad I got this in Paperback. I will cherish this book for years to come.
Ryan Revisited
by Sam Davis
Link: http://amzn.com/B00XYWS666
My rating: 4 of 5 stars
I really enjoyed this book. I mean what more do you need than Hot surfer, hot Rock star, and a killer second chance romance.
I think Mona and Linc had some crazy chemistry. You could tell from page one that this couple was special. They were soul mates. Even though it took years and major heartache to get these two to the right place. There was no denying they were meant to be.
I loved loved Mona.. Despite everything she went through I loved how her character was strong, smart and continued to have this special light with in her.
Linc, yes you are sexy and surf / rock god.. but you pissed me off in this book. He could not see what was right in front of him. Some of his demons were just powerful. He never felt good enough, and that was most of his downfall. But I adore him.. I loved watching him battle his demons and fight for what he wanted.
Their story is sweet, crazy, sexy, and at times heartbreaking. But this book is definitely a must read for all you Second Chance book lovers. Or just books were the two main characters have major chemistry. This is definitely a must read.
Outside (Rock Stars, Surf and Second Chances #1)
by Michelle Mankin
Link: http://amzn.com/B00YLPMB8E
My rating: 4 of 5 stars
This book was so back and forth.. But I love drama so this was just up my drama guilty pleasure kind of books.
It almost had a star crossed lovers, a forbidden kind of romance.I loved the flash backs. I enjoyed watching this couples undeniable chemistry to one another. This book definitely made my heart sink more than once..
OMG so much drama.. I loved Phoebe and Jeremy's Toxic love affair.. so much distrust. dear goodness I wanted them to just trust each other… They both were so stubborn. But I absolutely loved them..
OK.. I love Jamie and Lindsey. They have to be one of my favorite secondary characters. Loved them.
This was a great entertaining book…lots and lots of DRAMA..Just like I like it. Great HEA.. What more can you want.
Toxic
by Kim Karr
Link: http://amzn.com/B00OQSF6E2
My rating: 5 of 5 stars
OMG..This book…It was heartbreaking and a simply wonderful book. There is not many times when I read a book that I become completely 100 invested. This book was unbelievable heartbreaking. What Avery has to go through no one should. This is a story I think everyone should read.
I love love love Avery, she is in this dark, lonely, scary , heartbreaking situation. To her there looks like no way out. Even though her life seems hopeless. She is so amazing and strong, I was rooting for her this whole book.
Max..I can not get over how perfect he was.. He literally did everything right, he was the shoulder to lean on, the encouragement she needed and he stuck by when most people would have walked away.
There are a few characters on my SHIT LIST in this book….When you read them let me know what you think. I cause I could not believe A… WTH…But I believe she caught what was coming to her.
This book had my heart racing, I was literally devouring this book just to see what was going to happen. Great book. This is definitely a must read.
Saving Avery
by Angela Snyder
Link: http://amzn.com/B0107DLYEU
The Coffee Girl by Natalie Charles
My rating: 4 of 5 stars
I give this book 4.5 stars.
This book was so fun and cute. I enjoyed every second of this novel. It was just a great, clean, fun – romantic book. This was the perfect "I just read a gut wrenching, heartbreaking, ugly cry book" after book. Loved the easiness of this book and I love the author's writing.
Wren, she is this cute down to earth small town girl. She is smart funny and I adore her. She went to Hollywood full of dreams, when her heart was broken she left her dream to move home. I love love Wren. She is a breath of fresh air, such a great female lead. When she meets Jax, her life will never be the same and neither will his. OMG… Jax is perfect book boyfriend gold. I love him… I love watching these two story unfold. I love discovering the different layers of both of them as individuals and together.
Did I forget to mention how AMAZING the ending is.. HEA!!!!
This is a great contemporary romance.. I definitely can not wait to read more from this author.
The Coffee Girl (The Archer Cove Series Book 1)
by Natalie Charles
Link: http://amzn.com/B00TWLGNOA
Truth in Wildflowers by Kimberly Rose
My rating: 5 of 5 stars
This book was SPECTACULAR.. I do not know how I will get over this book. This is my first book from Kimberly Rose and it will not be my last. Can not wait to read her second book. I know I'm a blogger. But I was snooping on an Authors fan page and she was giving out copies of her book and I won it under my non blogger profile… I am floored by how magical this book was and I don't think my review will even do the justice this book deserves.
I am going to try to give this review with as little of spoilers that I can, because one of the best parts of this book is watching the story unfold.
Kensie, she is this closed off girl, she has sworn off guys for 3 years and the reason for her discussion (which you will find out in the book) is very painful. But, I loved watching her let go, be strong, and find her purpose.
August…..I'm not even going to pretend that he was not 100% amazing. I want an August. He is charming, and funny, and loyal. He is every girls perfect book boyfriend. Every time he called her Pretty Girl, swooned. August like Kensie also has a hurtful past..His is earth shattering. I ugly cried on that part! Just warning you. 🙂
Watching these two "Soulmates" and I will call them that because that is what they are find each other and watch their story grow into this beautiful amazing incredible story was definitely an honor to read.
There are so many great qualities to this story that I could go on and on. But really you need to read this book to experience how AWESOME it is.
Oh and August's Note to Kensie…best part. Besides the end with the Pride and Prejudice reference… That will maybe forever one of my favorite parts of any book.
Great book. This is definitely a must read.
Truth In Wildflowers (Truth Series Book 1)
by Kimberly Rose
Link: http://amzn.com/B00OPE4X14
Perfect Dreams by Marsha Greene
My rating: 4 of 5 stars
This book was Sexy.. OH heck yeah it was HOT!! This book was filled with suspense, romance, hot man, hot…..pretty much everything.
Marsha did a really great job with creating this undeniably chemistry between her main characters. #Exotica #SoHot. I loved watching these two fall head over hills for one another. Andrew and Julia were sizzling up the pages. I could not put this book down. It was a fun suspenseful read. I loved loved loved how fiercely protective Andrew was of Julia, it was refreshing to see a lead male character fight for what he wanted and do what ever her could to keep it.
I loved the way he loved, and I swooned every time he said "babygirl".
Hot man and pet names.
Great quick, suspenseful read.
Perfect Dreams
by Marsha Greene
Link: http://amzn.com/B00XM5N66A
Finding Ever After by Stephanie Hoffman McManus
My rating: 4 of 5 stars
I really really enjoyed this book. From the minute I opened it to the end I could not put it down. I devoured each and every word. I love the writing. It is smooth and some of the scenes will leave you breathless, because they make you feel so much. This book basically broke me. I cried in the beginning. felt so much angst and pain most of the book, and the suspense of what was going to happen with Conner kept me double guessing what was going to happen.
Jaxyn and Ky had an instant connection. But the good girl falling for the wrong guy was definitely a huge brick wall. There relationship was so up and down.. my stomach felt like it was on a roller coaster… but you know I can't help my self I love these types of books.
I also adored many of the secondary characters in the book. They were so heartwarming and I feel in love with most of them. I really don't know how one would read this book with out crying just a little but I love when a book brings out multiple emotions all at one time.
I don't want to give any more spoilers or ruin the story. But this book was really good. It reminded me a lot of Jamie McGuire's writing. Smooth and you could feel the emotions behind the words. I just loved it. Also, I have to point out that this was a great story that did not need (Exotica) to make it better or bring more to it! If you want a book with a little less inappropriateness you need to read it, it is that good.
Finding Ever After (Ever After 1)
by Stephanie Hoffman McManus
Link: http://amzn.com/B00JF57FCC
My rating: 5 of 5 stars
5.. I did not want this book to end stars… OMG.. I am in love with this story. This book was So GOOD… I could not put it down. I loved ever page of this book. It was suspenseful, it was breathtaking, it had the most killer love story. It had it all. It was so sexy.
I always phrase that I hate to spoil books so I will try to give this review as spoil free as possible. THIS BOOK WAS AMAZING! I loved Lauren and Natalie. I loved them from the moment I meet them but questioned everything.
I had a love hate relationship with Simon. God he was the biggest SOB in the beginning… but LADIES!!!! The second part of the book he is so freaken Swoon worthy I may just die. I love him. LOVE LOVE LOVE him.
Their love story is so up and down.. but it is so incredibly addicting to read. I loved a lot of the secondary characters. The bond Lauren forms with Kelly and Odette.. So fun. I love Paul..I kind of want his book now.. HINT HINT.
This book is definitely worth digging into. It was fast past and trilling the whole time. So Good. I really kind of want to read it again.. Like now.. #MustRead
Images
by Miranda Bing
Link: https://amzn.com/B00CRFB25I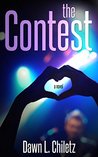 The Contest by Dawn L. Chiletz
My rating: 5 of 5 stars
I give this book 4.5 Stars. This book was so amazing. I enjoyed the writing, loved the comical banter, loved Jake and Madi undeniable chemistry. You could feel the electricity the minute these two were in each other's company. This book was an up and down ride of emotions with these two and I loved every minute of it.
Madi, who can not like Madi she is friendly, smart, sweet, successful and funny. She was probably my favorite part of the book. Her and Kendra were a riot, they had my LOL. It was really funny how most of this I was saying "Go for it."…you will understand when you read it. I loved watching her work through these feelings she had for Jake, I loved watching her experience things for the first time, and I love watching her overall goodness come into play on this book. Seriously the part with the red lingerie and the box of condoms…I may have been my favorite LOL part of any book.
So Jake he was a mixed bag of ups and downs for me. He was so nice, sweet and sexy. His bonus was that he was a successful rock star. I loved how he looked at Madi, I loved how he cared about her, I loved how he just wanted to be with her. But his downfall was his constant need to push her away….and that really just frustrated the hell out of me, I mean just when I thought okay now it will happen…it didn't. But don't give up on Jake, he will surely make you swoon and your heart melt because he is just that amazing of guy..jerk and all..lol
I quite enjoyed watching these two circle around each other, it was quite entertaining 🙂
This book was really, really good. I devoured it so quickly. It had an amazing ending. I can not wait to dive into book 2.
The Contest (The Contest Series Book 1)
by Dawn L. Chiletz
Link: http://amzn.com/B00OEOF6YI
Waiting to Lose by Dawn L. Chiletz
My rating: 5 of 5 stars
This was the perfect conclusion to The Contest Book 1. OMG..This book had my heart pounding. I am so shocked and floored by what happened. This book had a lot more twist and turns than book one. It was a lot more SEXY!! This book left me breathless a lot.
Jake and Madi's relationship in this book is tested big time. Their relationship was hit hard. I was fighting for them the whole time. They are perfect together. Their bond, their love, it was incredible.
You know how Jake was SOB in the first half of the last book…Well ladies he is damn near perfect in this book…Swoon..
This book was so much more than I thought it would be. It was so addicting. I could not stop reading it. There were twist and turns and I loved how it completely answered all my questions and gave me a complete vision of the after life. The book did not leave me questioning. I loved it!! And that ending.. it was AMAZING!
I also loved Ken and navy boy, or whatever ridiculous name she made up for him. They were so funny. I could totally read a book on just them.
This book was awesome. Now I know why people loved it so much. Definitely a must read series!
Waiting to Lose (The Contest Series Book 2)
by Dawn L. Chiletz et al.
Link: http://amzn.com/B00WLCU5L4